Dan's Ford Granada Site!©
View and Sign my Guestbook
---
This page has been viewed
times.

Here is a clip of a Granada Club meeting(my car is the black one)
For Granada Mk1 Mk2 Mk3 and Scorpio cars
By Daniel Rice Aged 14.
Dan's Granada Site is full of all things great about Granada's.
Here is some information about my Granada
It is a Mk2 2.8i Ghia X on a C plate with Black paint work and a velour charcoal inside.

My Mk2 2.8i Ghia X

When I got my Granada I joined up to the Granada Enthusiasts' Club which is very good.

Here is a bit about the club. The club started in 1990 and now has over 1000 members. The club is for Mk1, Mk2, Mk3 and Scorpio's. The club is split up into regions which have an area organiser who holds all the meeting's in the region, were ever you live in the UK you will be in one of the regions. Every year the club holds a Club National day which Hundreds turn up for. At the meetings there are prizes given for the best cars there voted by the other members Also there is a Mag that the club sends you it is full of photos of members cars and handy hints and meeting dates cars for sale etc.
If you want to join or get more information Phone/Fax, or E-Mail the club on, (01782)657697 <
---
Click here to E-Mail the Granada Glub

Does any body know where I can get a Ford Granada car Model for my collection:E-Mail Dan about it on one of the E-Mail point's in this site.

If you would like to tell me about your Granada or comment or send info Mail me .
---
Click here to send us an email message


Search with Yahoo
The GranadaEnthusiasts'club Site it is well worth a look!
If any Granada owner would like their car on this site send a photo to:3 Yellaford Way, Bickington, Barnstaple, Devon Ex31 2LF: I cant send you the photo back so keep a copy
All of this web site was made by Daniel Rice aged 14
---
Click here to send us an email message

For more information on the automatic notification service, Goto URL-minder and see what it's all about.

---
---
This page has been viewed
times.
This page created with Web-It, check it out...
You have now come to the end of my site but this was only done on the 22/6/97 so E-Mail me with bits and bobs to put on this.Thanks!
Ps.Look after your Granada's and visit me again as I will change my site every week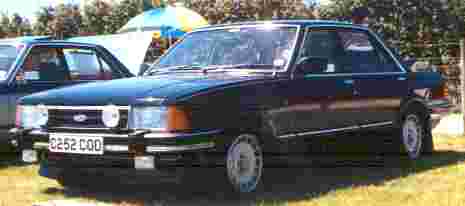 Oh I know this site is not as good as some but bare in mind I am only 14 Years old! I Look forward to reading your E-Mails.
View and Sign my Guestbook
---
Back to my main page