Dan's Mk3 Granada info page!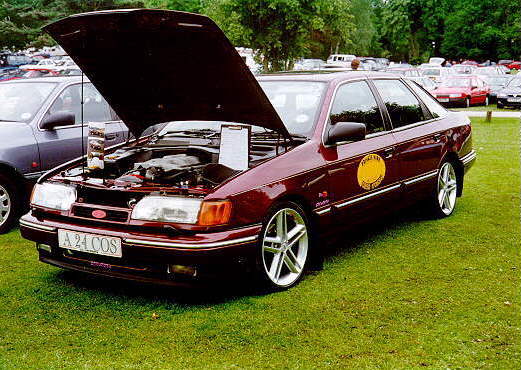 A very nice Mk3 2.9i 24v Rs Cosworth owned by Paul Hume!
---
---
Identity
It was the last new model announcement of 1990 which came just before Christmas:a more powerful version of the Scorpio with the Cosworth engine, tuned to give a 34 per cent more power but also to meet the world's toughest emission regulations.Look for the special wheeles and tiny 24V badge on the boot
Engine
Front-mounted longitudinal V6-cylinder with cast-iron block, special Cosworth alloy heads, and twin ohc each bank.Ford injection and distributorless ignition.Bore 93.0 mm, stroke 72.0 mm; capacity 2933 cc.Power 195 PS (143 KW) at 5750 rpm; torque 199 lb ft (275 nm) at 4500 rpm.Compression 9.7-to-1.Catalyst:standard.
Transmission
Rear-wheel drive;four-speed automatic, standard.Top gear speed at 1000 rpm:25.5 mph (41.0 km/h).
Performance
Autocar&Motor test:Maximum speed 136 mph (219 km/h) 0 to 60 mph (97 km/h) 8.5 sec:80 mph (130 km/h) 14.1 sec.Fuel consumption at constant 75 mph (120 km/h):28.0 mpg: overall test, 21.0 mpg.
That was the Mk3 Scorpio 2.9i 24V Cosworth
---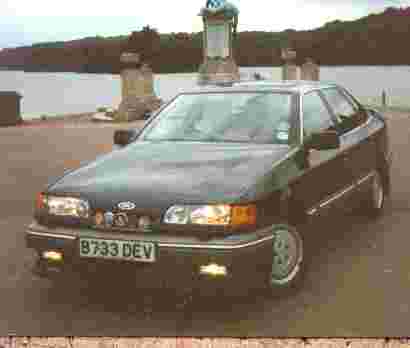 ---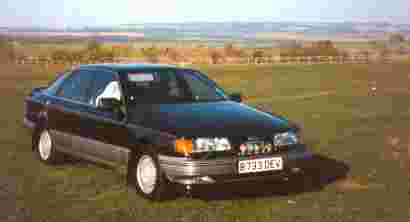 ---
The Fine looking Black Mk3 Granada above is owned by Granada Enthusiasts' Club member Chris Hereford.
---
If you have any pictures of Mk3 Granada's send them to me to be put on this page!
---
---
Click here to send us an email message